Interested in buying U.S. domiciled exchange traded funds from Europe/U.K.? You might be happy to learn that buying any U.S. ETF from Europe is possible via a U.S. based broker. Maybe you're merely interested in buying certain ARK Invest ETFs? Unfortunately, the European alternatives aren't always great. Therefore, this guide will help you buy ARK ETFs via Trading 212, using its pie 🥧 feature to replicate the funds.
This guide will explain how to replicate the following ARK Invest ETFs from Europe, using the Trading 212 app:
ARKK 🧠 Innovation
ARKW 🛰️ Next Generation Internet
ARKQ 🤖 Autonomous Technology & Robotics
ARKG 🧬 Genomic Revolution
ARKF 💳 Fintech Innovation
ARKX 👽 Space Exploration (coming soon…)
Be aware that we are indeed only replicating ARK's funds by buying the same stocks as those of ARK's ETFs. In this way, we can mimic their performance. 📈 As stated earlier, buying the actual funds is possible as well, but not through a European broker.
A benefit of this method is that there are no fees 💸 for holding a replica of ARK's ETFs, whereas the real funds have expense ratios (fund costs) of about 0.75% per year. However, a downside is that you will have to manually rebalance your holdings from time to time to ensure they remain similar to ARK's.
With the differences laid out, let's move on and learn how to buy ARK ETFs via Trading 212 through the pie feature.
Receive up to €100 in Bitcoin for free!
Interested in crypto but want to invest only a small amount? Use SwissBorg to purchase or deposit just €50 worth and receive a random amount of up to €100 in crypto for free.

Discover your reward! 🎀
STEP #1: Set up Trading 212 + free 🎁 share!
First, we have to make sure we have access to the platform that we'll be using. In this guide, we will buy ARK ETFs via Trading 212. Trading 212 is a simple to use app, available in most countries—including European ones. It is based out of London and popular due to its lack of fees for buying and selling stocks.
Download the Trading 212 app 📱 and receive a free share!
(iOS + Android)
The link above will automatically open either the Play Store or App Store, 🛒 depending on your device. When opening the link on a desktop computer, you can continue by clicking the 'Open account' button on the web page, though I would recommend using a mobile device to follow along with this guide.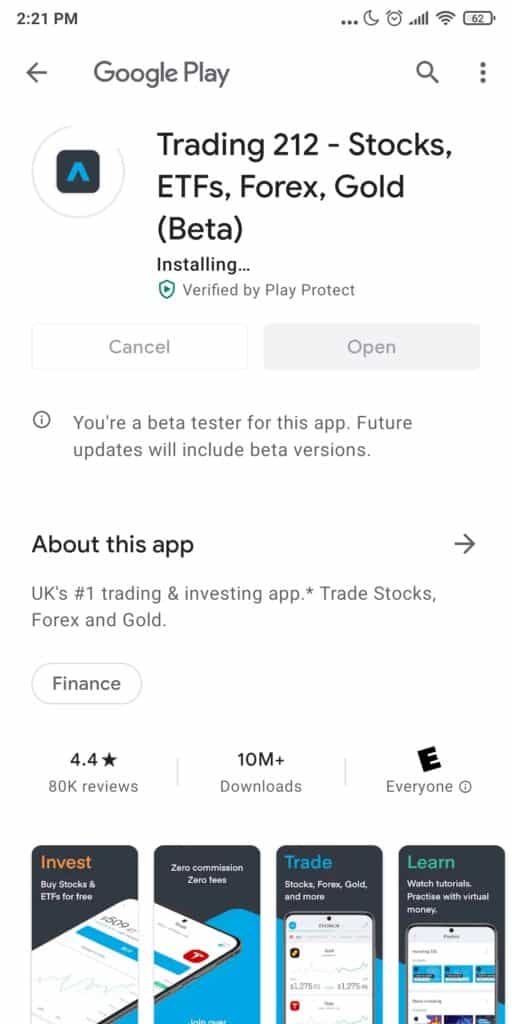 Note that using the link provided will also earn you one random share for free 🎁 (worth up to €100).
After downloading the app, press the 'Open account' button and pick your country of residence and nationality.
Next, you are asked to enter your full name, phone number, and where you pay taxes.
After pressing 'Next', a new field will appear for your Taxpayer Identification Number (TIN), though it will be named differently depending on your 🛂 nationality. If you are unsure, you can find instructions for EU countries here. For the UK, one's National Insurance Number must be entered.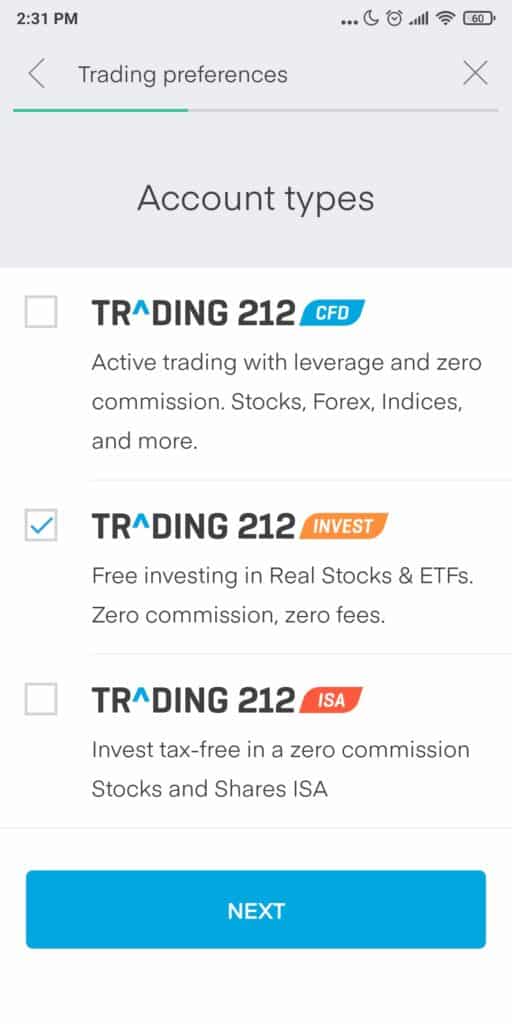 Now enter your 🏡 address and choose your account type. To replicate ARK ETFs, you'll be using a Trading 212 Invest account.
On the next page, you can choose your account currency. It is generally advisable to choose the same currency you use to deposit funds.
Provide your income, 💰 savings, and source of funds. Then enter your employment status and its details.
Declare that you have read and agree to the provided documents. Now enter your email address, 📧 choose a password, and press 'Create account' to finalize the account creation.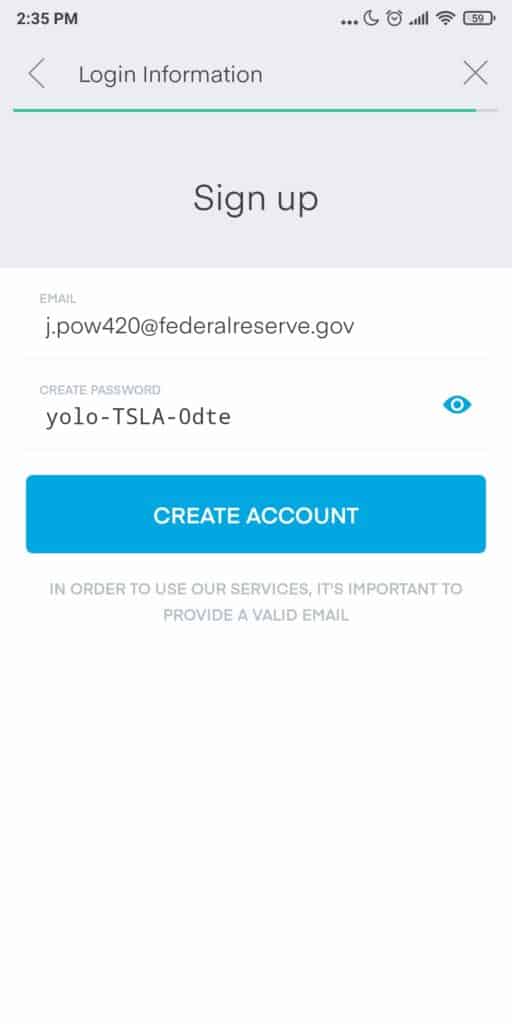 You will now be directed to the account verification process. Upload a copy of your 🛂 passport (citizens of the European Economic Area can also choose to upload their national identity card instead). Make sure all corners of the ID page are visible and no glare is present. Next, the app will request you to take a 🤳 selfie to check whether the photo on your identity document matches yours. You should also provide a bank statement. Non-EEA residents will have to upload a proof of address (utility bill less than three months old) as well.
Press to submit and you should receive an email once your account has been verified. This should generally take a day or so. 🕐
STEP #2: Create your ARK Invest pie and choose your investment scheme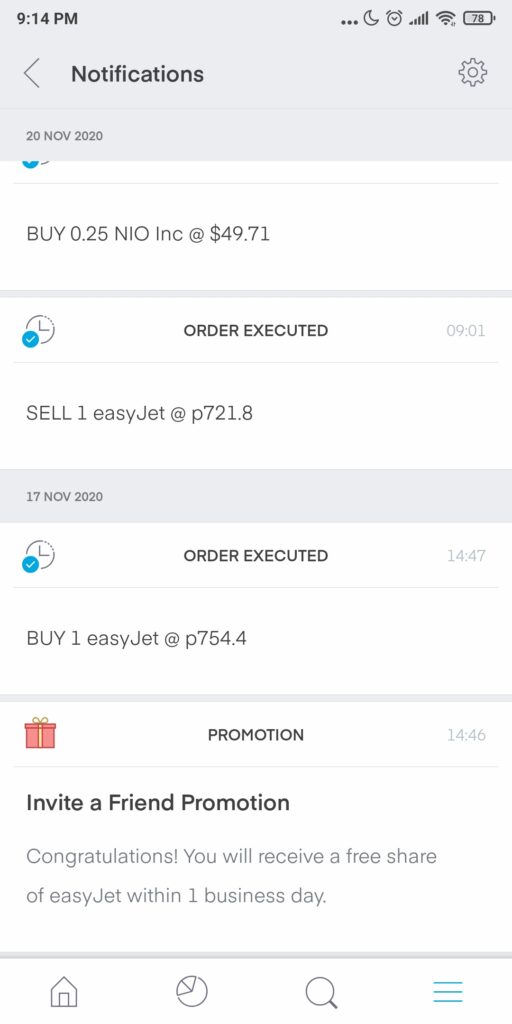 If you used the sign up link provided earlier, you will now find a free share has been added to your account. If you want, you can sell it 💰 and use its value for the ARK pie that we'll create instead.
Open the account page (pie chart icon in bottom menu bar), and press the 'Pies' button. Now press 'Open pie library' to view our options.
Choose ARKK in the top menu bar. Somehow it's named after ARK Invest's most popular ETF (ARKK Innovation), even though the other ones will be available through this menu as well.
Here you find find a list of user created pies aiming to imitate the ARK ETFs. The ones created by user 'Treeba' seem to be accurate and updated frequently (once per week), 📅 so for my example we'll buy his ARKG pie.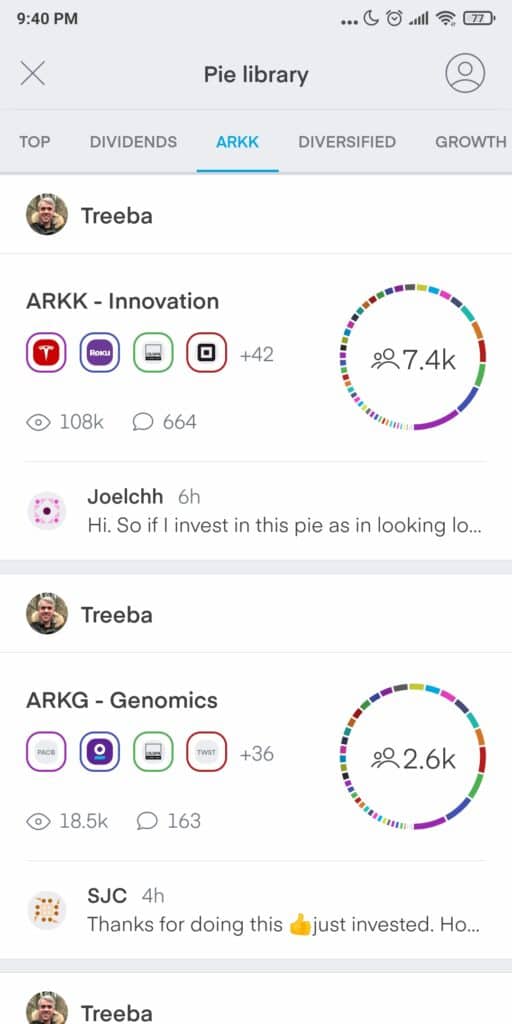 Press the pie you like and then 'Copy pie'. On the next screen you'll be presented with an overview of the pie's holdings, which should be identical to those of the ARK ETF you chose. If you want, you can make some manual adjustments. Otherwise, just press 'Next' to continue.
You can now choose whether you want to invest in your pie 🥧 automatically according to a schedule. Due to how rebalancing works in the app, it is easier to invest just once by using the available funds in your account. If you choose to invest automatically, you'll be presented with some options to set your timeline, frequency and initial deposit, then continue to the next screen.
If investing manually, you'll continue to the next step right away. Enter a cool name for your pie—you can add an icon as well—then press to continue. Your pie will now be added to your portfolio.
STEP #3: Funding your ARK ETF pie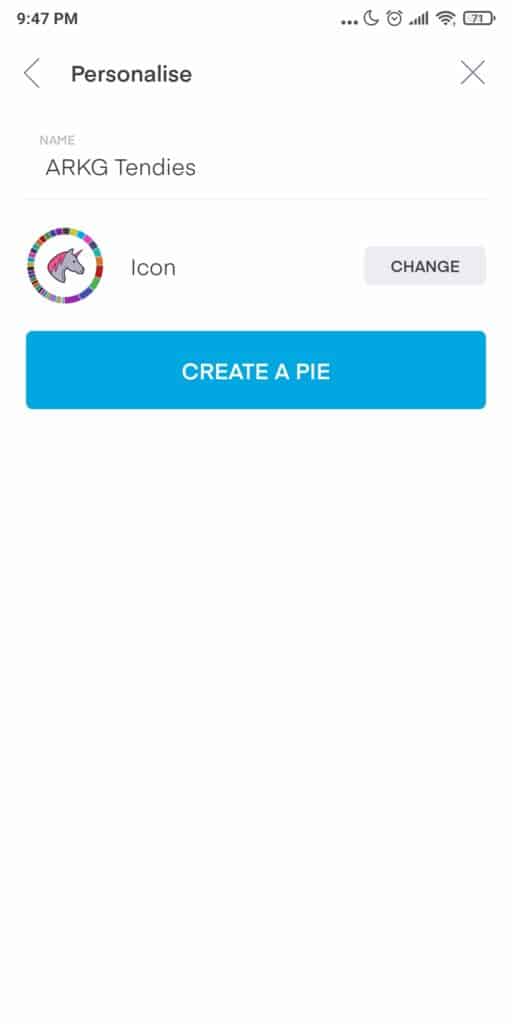 If you chose to auto invest, press 'Fund pie'. Otherwise, return and press the portfolio button in the bottom menu bar (pie chart). Now open the 'Pies' tab where you'll find your pie waiting to be funded. 💵
It seems the minimum amount required to buy into large pies such as these is currently set at €200 or the equivalent of your currency. The minimum also applies to scheduled investing, though only for the initial deposit. Thereafter, you will be able to invest any additional amount according to a schedule of your choosing.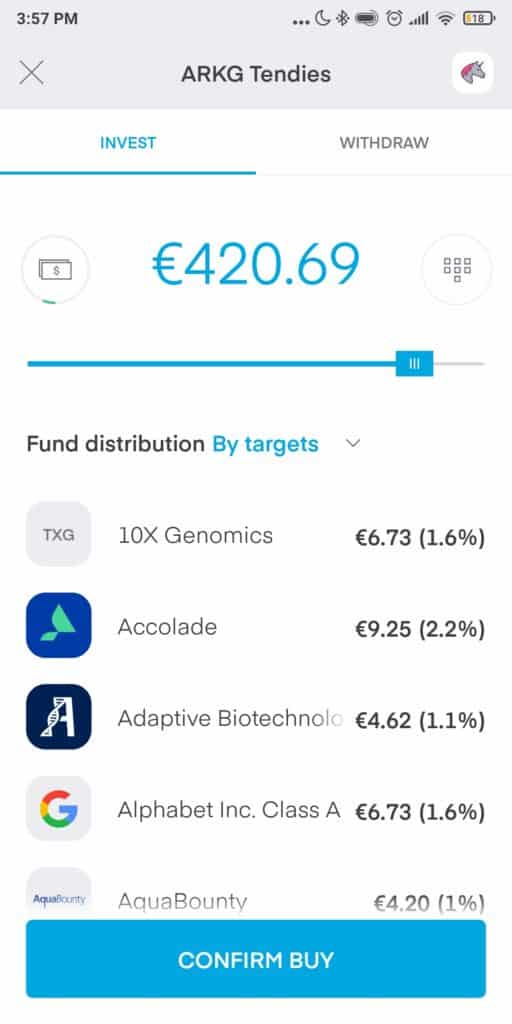 You can choose to pay or deposit by credit 💳 or debit card, Apple Pay, Google Pay, or Skrill. These methods are initially free, though they start carrying a 0.7% fee once you've deposited €2,000 (or your currency's equivalent) in total. Bank transfers are always free, but not an option when choosing to invest automatically.
Put in the amount you want to invest and press to confirm. The distribution of your investment is automatic and proportional to ARK's holdings.
On the next screen you can track the progress of your purchase. Buying all your holdings will likely take some time. ⏳ It may take longer if the market isn't open when investing.
STEP #4: Rebalancing your ARK ETF pie
Now that you placed the order, you might assume that you can leave your investment as is. 💤 Unfortunately, this isn't so. Because ARK Invest regularly updates the contents of its ETFs, you will have to update your pie from time to time if you want it to stay up to date. Currently, Trading 212 offers no feature to automate this task, so we're going to follow a few steps instead.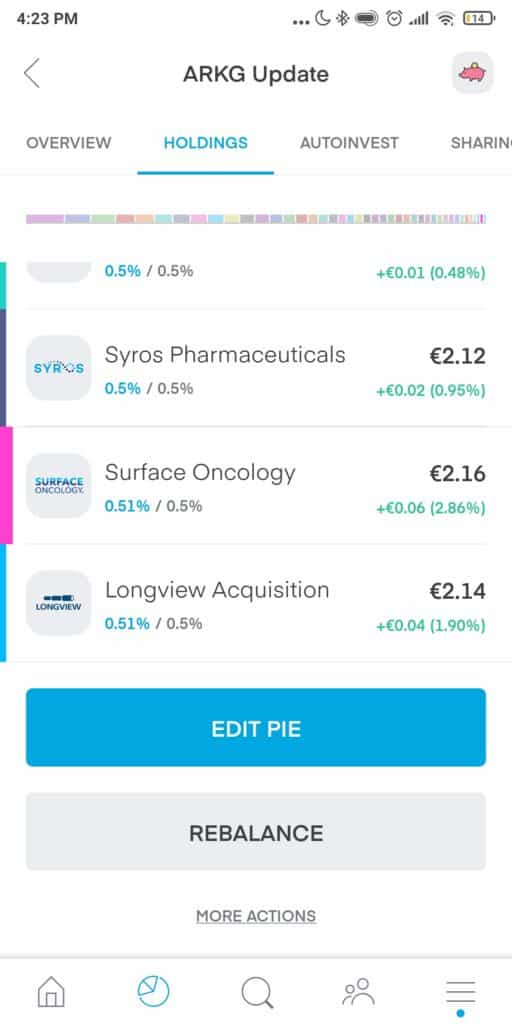 Start off by pressing the 'Open pie library' button. You can find this button on the 'Pies' tab on the portfolio page (pie chart icon). Once again, open the pie that you are now investing in (ARKG in my example) and press 'Copy pie' to create a second copy. Press next on the pie distribution overview, choose to invest manually, and give the pie a name. Your profile page now contains two pies; a funded one and a new one.
Open the funded pie and go to the 'Holdings' tab, scroll all the way down to the bottom, and press 'More actions'. Now press 'Export investments', check ✔️ the box next to 'Investments' to select all holdings, and proceed. Navigate to your newly created pie and perform the same routine, this time choosing 'Import investments' instead.
Note that if you also hold investments other than the ARK ETF in your account, you should filter those out on the following page. This way, we make sure we only import ⤵️ the ARK holdings into the new pie. Press next to continue.
⚠️ Lastly, it is very important you now press the 'Rebalance' button. Pressing this button will rebalance the holdings according to their updated percentage. You can also delete your old pie at this point.
Congratulations, your pie 🥧 has updated! Repeat this exercise from time to time to stay up to date and you should be able to track the ARK ETF fairly accurately.
Looking to diversify your portfolio?
Why not add a little crypto? Sign up with Coinbase—one of the world's largest and most reliable exchanges—and receive $10 worth of Bitcoin for free, when buying at least $100 worth of crypto.

Claim free gift! 🎁
Final notes regarding U.S. ETFs
Following this guide should allow Europeans 🌍 to buy ARK ETFs via Trading 212. However, updating the holdings still has to be done manually. Additionally, you can replicate only ARK ETFs in this way.
Using a U.S. broker as a European will allow you to buy any U.S. 🗽 domiciled ETF on the market. It will allow you access to TQQQ, QQQJ, UPRO, ICLN, BOTZ, UFO, and many other ETFs otherwise unavailable from Europe. This method doesn't require manual rebalancing either.
Did you succeed buying ARK via Trading 212? What free share did you receive? 🎁Place a comment and share your experience!
Trade from your phone without fees!
Trading 212 is one of the most popular free trading apps. Create your own ETFs using the pie feature and invest automatically via a schedule.

Download and receive a free share in minutes! 📱