If you've been following along with this blog, you will have read how to set up a Tastytrade account, how to register with CurrencyFair, and how to fund your account. With the funds 💰 deposited, we can now continue and buy U.S. ETFs on Tastytrade from Europe/U.K., such as those from ARK Invest, leveraged ETFs from Direxion and ProShares, or covered call ETFs like QYLD or JEPI, otherwise unavailable to Europeans.
Opening the trading platform

Login to your Tastytrade account, in the header, hoover over the 'Platforms' button, and click the 'Our Technology' button to open the trading platform. 💻 All the way at the bottom, you will find a button to open the browser trading platform. Alternatively, you may just click this link to go to the login page directly.
A new tab should open, prompting you to login to the trading platform. Once again, provide your username and password and click 'Login'.

Verify that you have buying power in the top menu. Your buying power should be equal to your deposit that you made via 💱 CurrencyFair (or may be higher for margin accounts).
Because Tastytrade is heavily geared toward options trading, the interface may seem a little different from most brokers. Luckily it is still perfectly possible to buy both stocks and ETFs.
Placing the order for a U.S. domiciled ETF
For our example, we'll place an order for QQQJ, a popular Nasdaq 'Next Gen 100' ETF. Click 🖱️ the 'Trade' button in the menu on the left and a new window will appear.

The window should default to the table tab, used to place option orders. Because we simply want to buy an ETF, click the first tab called 'Stock' instead.
The interface will change and you will be able to enter ⌨️ the symbol of your desired ETF (QQQJ in our case).
Decide whether you want to place a limit or market order. If you want to place a limit order, put in the limit price. For a market order, click the market order toggle.
Additional options are also available should you want to use them. I'll keep it simple and place a market order for 1 share.
Once you have made your choice, click 🖱️ 'Review and send' to continue.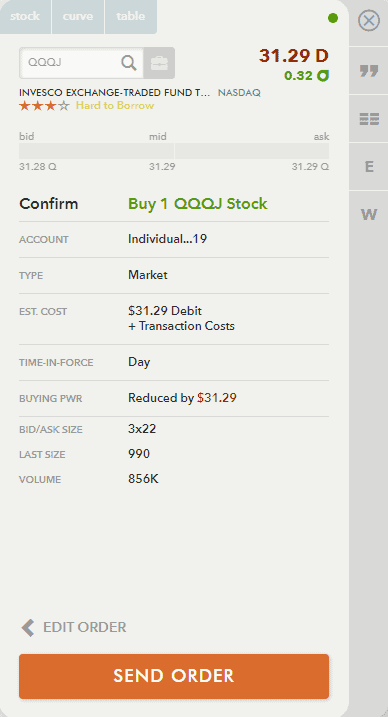 On the next screen you'll be shown a final overview of your order. Once you have verified all is in order, ✔️ click 'Send order' to execute.
Notice that we managed to place an order for an ETF lacking a Key Information Document 📃 (KID), which would normally be required in Europe.
Once your order gets filled, it should show up in your portfolio. You can always access your portfolio by clicking the 'Portfolio' button in the menu on the left.
Now that you can buy U.S. ETFs on Tastytrade, perhaps you can click around the site a little and explore the other possibilities the platform offers.

What do you think about Tastytrade? Got any more questions? Feel free to leave a comment below. Good luck!
Receive up to €100 in Bitcoin for free!
Interested in crypto but want to invest only a small amount? Use SwissBorg to purchase or deposit just €50 worth and receive a random amount of up to €100 in crypto for free.

Discover your reward! 🎀