If you want to be able to buy US domiciled 📈 ETFs, such as ARKK, VTI, or VXUS from Europe/U.K., you'll want to be using a US broker. Previously we have gone through the process of opening such an account with Tastytrade, which can be found here. In this step we will look at opening a CurrencyFair account to fund Tastytrade from Europe.
Already have an account? Read the next blog post for funding instructions.
In order to fund the account, you'll have to deposit the funds via bank wire. Unfortunately, both transferring and converting the money from a European account can be quite costly. 💸 To minimize costs and to keep things simple, it's best to use CurrencyFair to wire your deposit to your brokerage account.
Note that alternatives such as Wise (formerly TransferWise), Revolut etc. are not accepted and only CurrencyFair is explicitly supported by 🍒 Tastytrade (see below). Only CurrencyFair will correctly use the SWIFT network as required, whereas other services will only use ACH, leading to a failed transaction. Using any other services could also lead to a $30 reversal fee being charged.
Opening a CurrencyFair account to fund Tastytrade from Europe
To start the registration, click here. Using the link will also earn you a free €50 bonus and support this blog! 🎁 Be sure to disable ad and cookie blocking if you want to be sure the bonus is applied.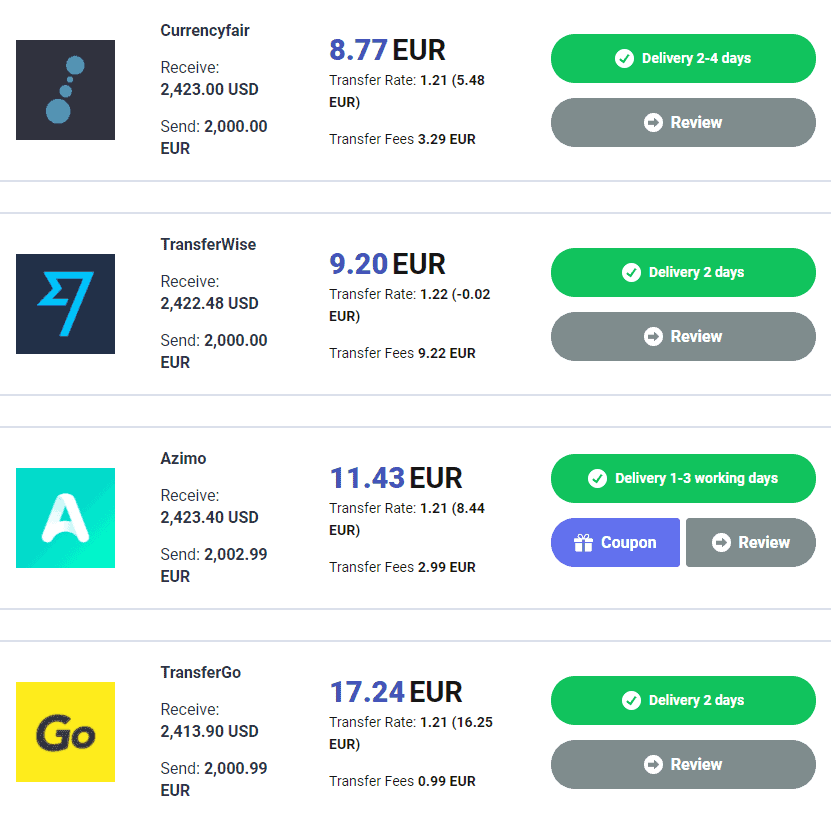 CurrencyFair is among the providers offering the lowest conversion and transfer fees. When I did a quick comparison writing this blog, I even found it to be the cheapest at the time. 🤑
A transfer still isn't completely free, as it would be within 🌍 Europe, but consider that the lack of fees for buying and selling stocks and ETFs with Tastytrade will make up for that.
To minimize costs, it is best to transfer as much as possible at once, instead of via multiple smaller transfers. To be eligible for the €50 bonus, a transfer of at least €2,000 (or the equivalent in the depositing currency) is required. 💶
If you are looking to only invest a few hundred 💵 dollars, it might be best to consider an alternative option. Click here to learn how to get exposure to U.S. ETFs via CFDs, requiring only a $200 minimum deposit (and just $50 thereafter). Be aware though, that with this method, access is limited to the most common ETFs.
After opening the link, click 'Sign Up' in the upper right-hand corner.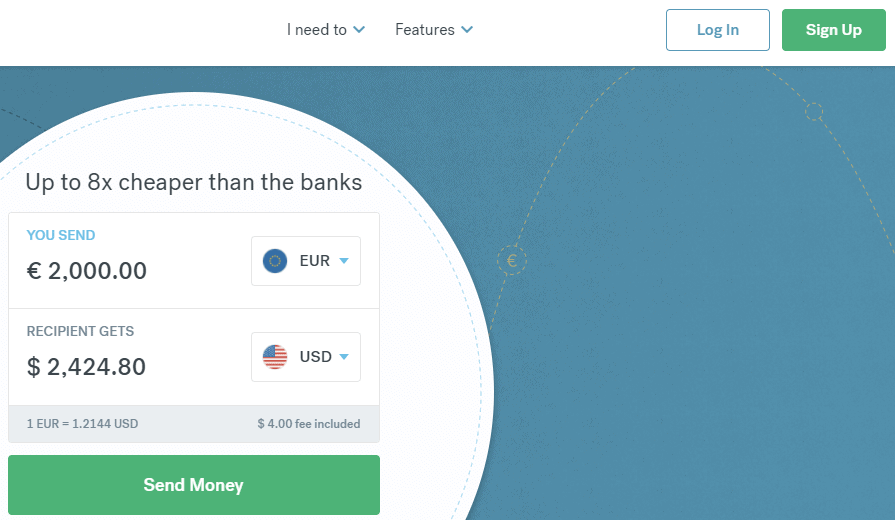 Choose whether you'd like a personal or business account, put in your email address, desired 🔑 password, and click 'Next'.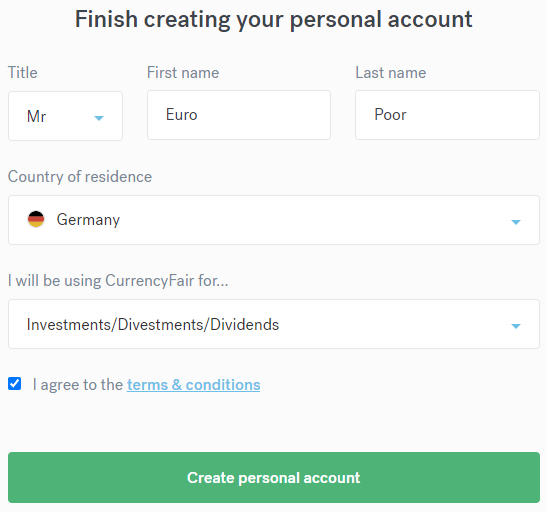 When choosing the purpose of the funds, choose 'Investments/ Divestments/ Dividends'. Click to agree to the terms and 'Create [personal/business] account'. For this guide we'll be creating a personal account.
Click the arrow button next to 'Send money abroad quickly' to continue.

Provide your personal information and click 'Next'. Now provide your income, desired transaction size, choose 🦅 USA as destination country, and USD as currency to use (along with your own currency).
On the next screen you will find the option to immediately initiate a transaction. However, to prevent delays or issues later on, we want to verify our 🛂 identity first.
Verification
When opening a CurrencyFair account to fund Tastytrade from Europe, it is advisable to immediately start the account verification process to prevent any issues later on. Instead of clicking 'Next', click the CurrencyFair logo in the upper left-hand corner to proceed.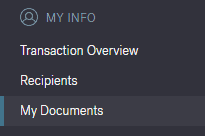 Next, navigate to the left-hand menu and choose 📃 'My Documents'. You should now see a screen allowing you to upload your identification. You can choose to upload a passport, driver's license, or government id. The document should display:
Your name (same as provided during registration)
Your date of birth (same as provided during registration)
That it is within the expiry date shown
Your signature
Note that all four corners should be visible and that only color scans or photos are accepted. When taking a 📸 photograph, beware of any reflections.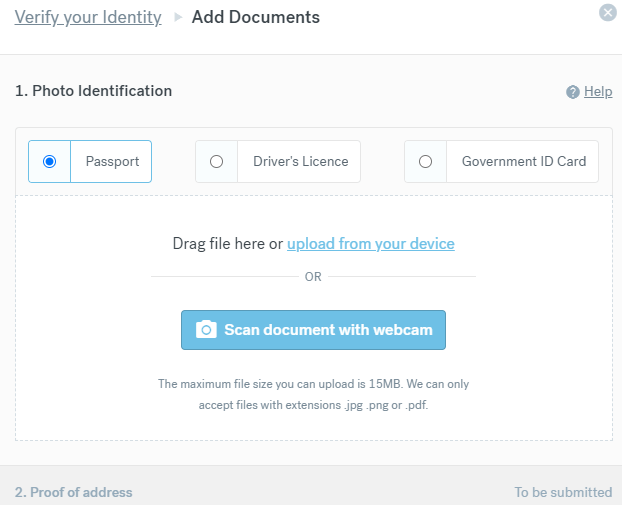 Step 2 will require a recent (within the last 3 months) proof of address. If you do not receive bank statements via 📮 mail, many banks offer to to provide one for verification purposes when asked. Alternatively, one could request a 'balance letter'. The proof of address should contain:
Your name (same as provided during registration)
Your full address (same as provided during registration)
A letterhead (e.g. a company logo)
A date within the last 3 months
After submitting, your application should be processed in one business day. 🕐
Transferring to your broker
Once both your Tastytrade and CurrencyFair account have been created, you can now proceed by 💰 funding your account. Click here for detailed instructions.
Did you already receive your bonus? How long did the verification take? Leave a comment below and share your experience.
Receive up to €100 in Bitcoin for free!
Interested in crypto but want to invest only a small amount? Use SwissBorg to purchase or deposit just €50 worth and receive a random amount of up to €100 in crypto for free.

Discover your reward! 🎀