Whether it's VTI and VXUS for your FIRE journey, ARKK because you love 👨‍💻 tech, or TMF and UPRO because you got enthusiastic reading Hedgefundie's Excellent Adventure, as a European, buying 🗽 US domiciled ETFs is generally off limits. Due to PRIIPs regulation, requiring a Key Information Document (KID), retails investors cannot buy US ETFs. However, obtaining Professional Investor status can resolve this limitation.
⚠️ For most people, using a US broker instead of a European one will be the most straightforward option; it's easy, cheap, and doesn't require a lot of initial capital to set up. For instructions on how to do so, read my blog series here.
There is, however, an alternative that will work with some—though not all—European brokers. This method requires being registered as a 'Professional Investor', otherwise known as an 'Elective Professional Client', 👨‍💼 'Professional Client', or 'Sophisticated Investor'. The goal of this guide is to detail both the requirements as well as the process of obtaining such status.
Requirements for obtaining Professional Investor status
As per 📃 MiFID II, Title 1, Article 4 (1) (10), a 'professional client' means a client meeting the criteria laid down in Annex II of the same document. This annex states that at least two of the following three criteria should be satisfied:
The client has carried out transactions, in significant size, on the relevant market at an average frequency of 10 per quarter over the previous four quarters.
The size of the client's financial instrument portfolio, defined as including cash deposits and financial instruments, exceeds €500,000.
The client works or has worked in the financial sector for at least one year in a professional position, which requires knowledge of the transactions or services envisaged.
As you may have noticed, the document doesn't seem to specify what exactly would be considered a transaction of 💰 'significant size', and my understanding is that this is left to the brokers to define (more on this later).
Should you meet two or all of the requirements, read on for instructions on how to request the status of 'professional client'. If not, you will still be able to buy US ETFs, but via a different method.
Obtaining the registration documents
So, you're still reading? Nice portfolio you must have! Let's see how we can obtain that status now.
First of all, it's important to realize that offering 'professional client' status is something brokers can choose to offer, and therefore not all do.
From my experience, it seems both Interactive Brokers and its resellers offer this option, but many others do not. You can find some of IB's resellers listed here. Be sure to check with customer support before you open any new accounts to verify whether they can change your status.
If they can, great news. Request the status change via 📧 email and you'll be sent some forms to fill out. For this example, I requested the forms with Zacks Trade, but yours should be very similar, no matter your broker.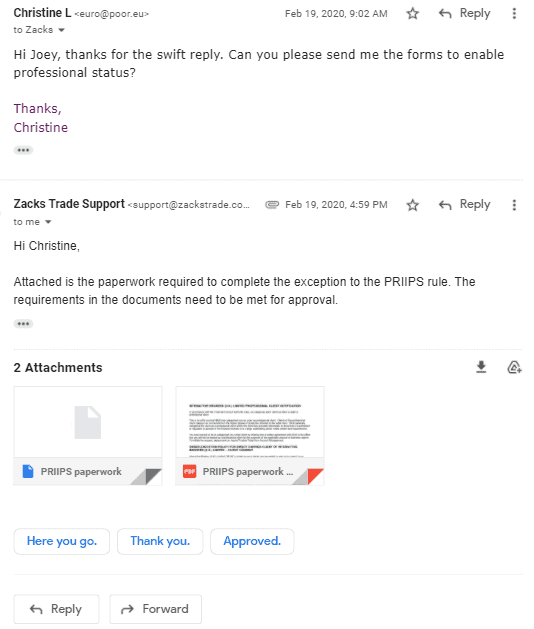 Filling out the registration forms
The first page contains an introduction and the criteria, which we already discussed earlier on. Annex 1 details the differences in regulatory protections that apply to a professional client. Though the differences don't seem too significant, be sure to give it a read should anything impact you. Generally speaking, more of the liability will shift to you and away from the broker.
Annex 2 contains the attestation that needs filling out. First, confirm which requirements you meet. As for the requirement to have carried out transactions in 'significant size', it seems IB affiliated brokers define it as at least 💶 €200,000 worth of transactions over the last four quarters, at an average frequency of 10 per quarter. If the trades have been placed through other accounts, those can be included as well, just be sure to add those account statements to the form.
Next, put in your account number, name, user name, date, and sign ✒️ the form. Return it via email and your broker should now process the request.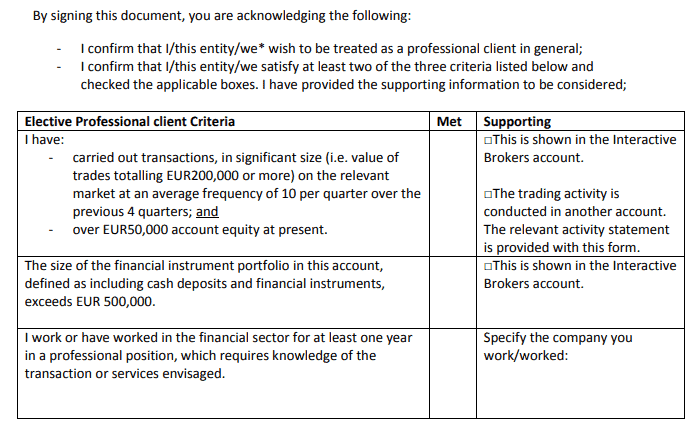 Did you manage to change your status and buy 🦅 US ETFs? Share your findings in the comments section and help others do the same.
If not, perhaps a different method would suit your situation better?
Looking to diversify your portfolio?
Why not add a little crypto? Sign up with Coinbase—one of the world's largest and most reliable exchanges—and receive $10 worth of Bitcoin for free, when buying at least $100 worth of crypto.

Claim free gift! 🎁