Though Tastytrade is a U.S. 🗽 based broker, it's perfectly possible for European/U.K. residents to open an account as well. Tastytrade offers many advantages over European alternatives, such as $0 fees for buying and selling stocks and ETFs, a unique 💻 trading platform, and—most important—one can use Tastytrade to access US domiciled ETFs, otherwise unavailable to Europeans.
On our homepage 🏠 you will find a quick guide on how to buy such ETFs. This blog post, however, will provide more detailed steps on how to open a Tastytrade account while residing in Europe.
Already have an account? Continue on to the next blog post to register a CurrencyFair account and deposit your funds.
Registering an account
Currently, you can open an account from most European countries, including e.g. the U.K, Germany, France, Netherlands… To be sure, check the up to date list of supported countries here. Alternatively, check out the guide on using eToro for unsupported countries.
Some U.S. citizens have experienced trouble opening an account from Europe, though it isn't clear whether this applies to all European countries. If you are a U.S. citizen and want to be sure, you can contact Tastytrade beforehand to confirm.
First of all, head over to the Tastytrade account registration page by clicking this link. Fill in your email address, username, and desired password. 🔑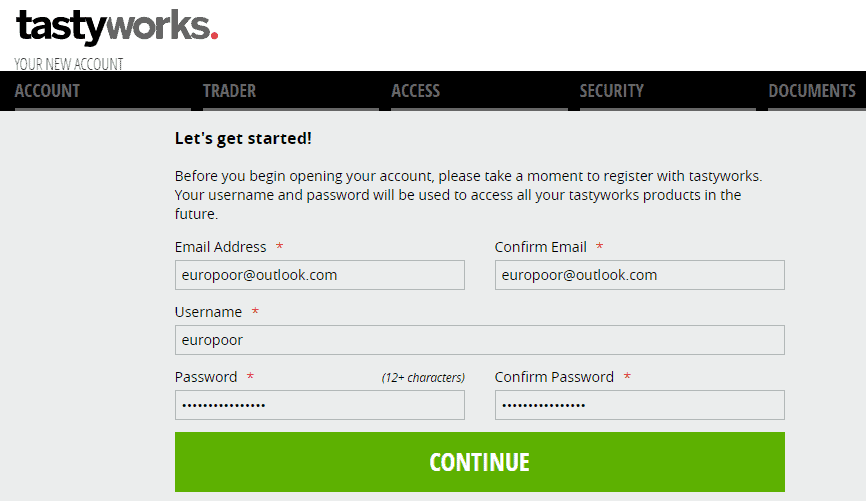 After clicking 'Continue', an email 📧 will be sent. Be sure to open the email in a new tab, and click the link to verify your email address within 72 hours ⏲️ or the link will expire. For me, the email ended up in the spam folder, so be sure to check there as well!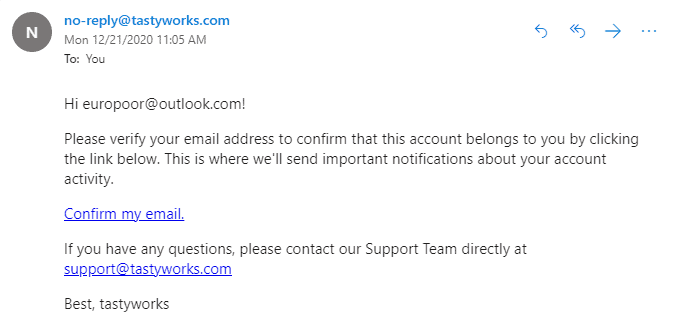 Head back over to the registration tab, choose your account type, and whether you want margin access or not. Click on the account types to read a description of what they offer.
Margin will allow you to borrow cash to buy equities. If you are unfamiliar with this concept, you could opt for a cash 💰 account, which does not offer this feature. For this guide we'll choose an individual cash account.
Personal details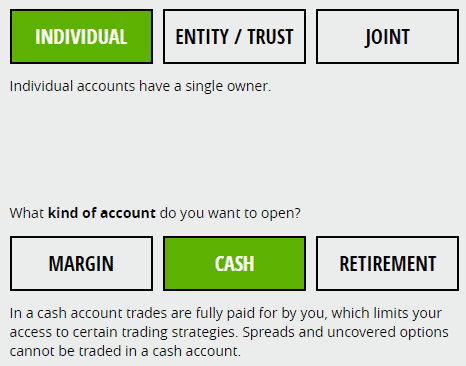 Click to continue and provide your contact details in the form that follows.
A warning ⚠️ will also pop up, explaining that additional documentation will be required for 🌍 international clients. This is fine; we'll address this step later on.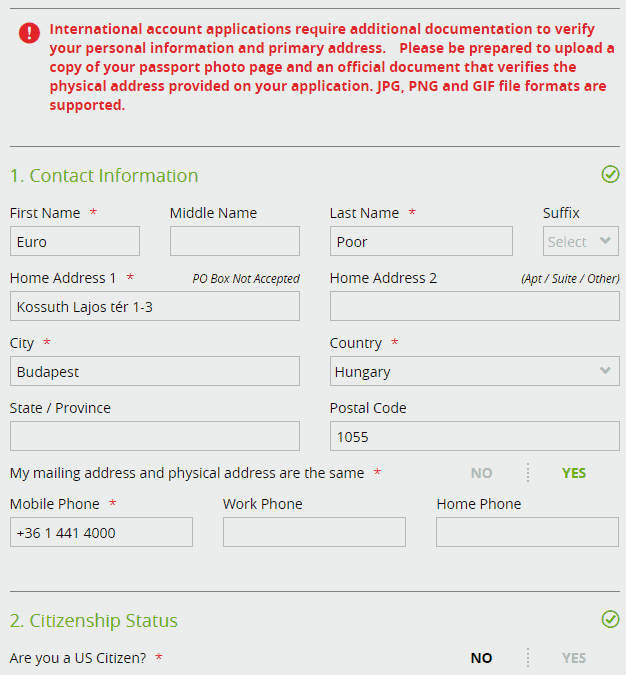 In step 3, a tax number will requested. This number—also known as a TIN or Taxpayer Identification Number—will look different depending on your country of citizenship. 🛂 For an easy guide on where to obtain it per country, take a look here.
Step 4 will ask whether you are subject to backup withholding.

As long as your tax number is correctly provided in the earlier step, the answer will almost always be 'No'. Note that this website does not provide tax advice so check elsewhere if you aren't sure.
Step 5 will ask some questions regarding any affiliations you might have. It has no bearing on the ability to open an account, but depending on the answers, some more information might be requested.

Security
Provide a trusted 📱 contact, who would be contacted in cases where fraud would be suspected (to verify your identity). For example, your spouse or a good friend. They will not be notified of being a trusted contact, and wouldn't be contacted under any normal circumstances. Also, trusted contacts have no ability to place orders or request withdrawals.
In the next step, put in an estimate of your first deposit amount. Because we will be using CurrencyFair to make the deposit (more on this here), list the Primary Bank Name as being CurrencyFair. Note: you will be using your own bank for the deposits, we only use 💱 CurrencyFair to process the wire transfers for us, as this is the best and cheapest way of transferring funds to Tastytrade.
If you want to make use of the €50 free bonus 🎁 from CurrencyFair (explained in the next blog post), you'll have to transfer at least €2,000.
Continue on to the next tab and provide your trading experience, objectives, and financial information. 💵
On the next tab you are offered to enable two factor authentication (2FA), should you like to do so. Additionally, you can provide a security question and answer.

Verification
On the final tab, we need to upload some documents. Upload a scan or photograph of your passport's photo page. For the proof of address, Tastytrade accepts the following 📃 documents:
Government-issued photo ID (with the address listed)
Utility bill
Bank statement
Credit card bill 💳
Note that the full document has to be provided and it cannot be more than a year old when submitted.
If you ordinarily do not receive bank statements via mail, many banks offer to to provide just one for verification purposes when asked. Alternatively, you can request a 'balance letter' to be mailed, proving ownership of the account.
Only landline bills are considered a utility bill in this instance, mobile phone bills are not. Gas, 🔌 electricity, or water bills are fine as well.
Scroll down to confirm that you have read the listed documents and click 'Review your application' to continue.
Sign the box using your mouse or screen, click to ✒️ sign, and submit your application.
Because international account require a manual 👀 review, it typically takes 3-5 business days for your account to be approved.
In the meanwhile, feel free to leave a comment below if you got any more questions or suggestions!
Fund the account and use Tastytrade to access US domiciled ETFs
Once you have created your account, the next step will be to fund it, before you can use Tastytrade to access US domiciled ETFs. Funding an account from Europe is possible via a specific method to save costs: CurrencyFair. Click here to read the next blog post for detailed instructions on how to open such an account, including a free €50 bonus. 💶 Should you already have an account, click here for funding instructions.
Looking to diversify your portfolio?
Why not add a little crypto? Sign up with Coinbase—one of the world's largest and most reliable exchanges—and receive $10 worth of Bitcoin for free, when buying at least $100 worth of crypto.

Claim free gift! 🎁