Buying U.S. domiciled ETFs is not possible using European 🌍 brokers. Though you can use a U.S. broker instead, another way around this restriction is buying a contract for difference (CFD) instead. This guide will show you how to open and use an eToro account to buy U.S. domiciled ETFs from Europe/U.K., using CFDs.
Already got an account? Scroll down to read how to place an order for 🗽 U.S. ETFs with your account.
Sign up and buy U.S. ETFs on 🐂 eToro!
Available in all European countries, eToro is one of the most popular CFD platforms around. Sign up and deposit via credit/debit card, PayPal, iDeal, Sofort, Klarna, or bank transfer.

Trade U.S. stocks and ETFs in minutes 💶

Your capital is at risk
77% of retail CFD accounts lose money
Note regarding CFD risks and fees
CFDs are instruments that may allow for a trade to be leveraged or sold short. This guide does not explain nor promote these optional features that increase risk to your 💰 capital. When short selling or making use of leverage, you will incur overnight and weekend fees. When not making use of these features, such fees do not apply.
Simply put, if you follow along with this guide, you'll be able to buy U.S. ETFs via CFDs without leverage and thus without additional leverage fees. The only fee that applies for opening and closing a position is the standard fee (the 'spread'), typically around 0.09%.
Finally, when buying U.S. ETFs via CFDs, one does not own the underlying ETF but rather the CFD covering the ETF. This does not affect the investment's 📈 performance, but may have tax implications for some countries. Be sure to check beforehand.
🧠 Tip: Since eToro operates in USD, when depositing in any currency other than USD, you will also pay conversion 💱 fees. When depositing larger amounts (~$1000+), you can save on conversion costs by using either Wise or CurrencyFair to deposit in USD directly.
When transferring €2000+, be sure to deposit via CurrencyFair! 🎁 Use this link for instructions on how to do so.
Open an eToro account to buy U.S. domiciled ETFs
Before you can start buying ETFs, you'll need to create and verify an account with eToro. Use the link below to go to the webpage where you'll find the sign up form.
Sign up with eToro 🐂

Your capital is at risk
77% of retail CFD accounts lose money
Enter your desired username, password, and 📧 email address. Agree to the terms and press 'Create Account'. You'll now receive a confirmation email. Open the link in the email to verify your email address and continue.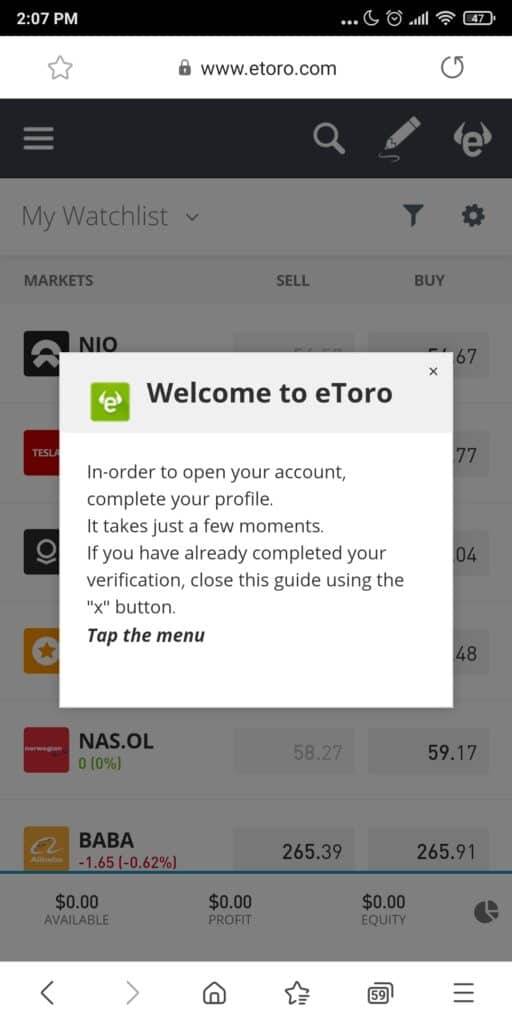 You'll be shown a welcome message, which you can close. Then navigate to the menu on the left and press the 'Complete Profile' button. Press to continue and fill in your name, gender, and 📅 date of birth.
Next up, your address and country. Depending on your nationality, a 'national number' may be required as well. Instructions on where to find this Taxpayer Identification Number (TIN) can be found here. For the U.K., one's National Insurance Number must be entered instead. Other numbers, such as 🛂 passport or investor numbers may also be required depending on your country.
Provide your trading experience. If you have none yet, that's fine, though you may not be able to trade with leverage. Note that this guide does not demonstrate the use of leverage, so you'll be able to follow along just fine without it.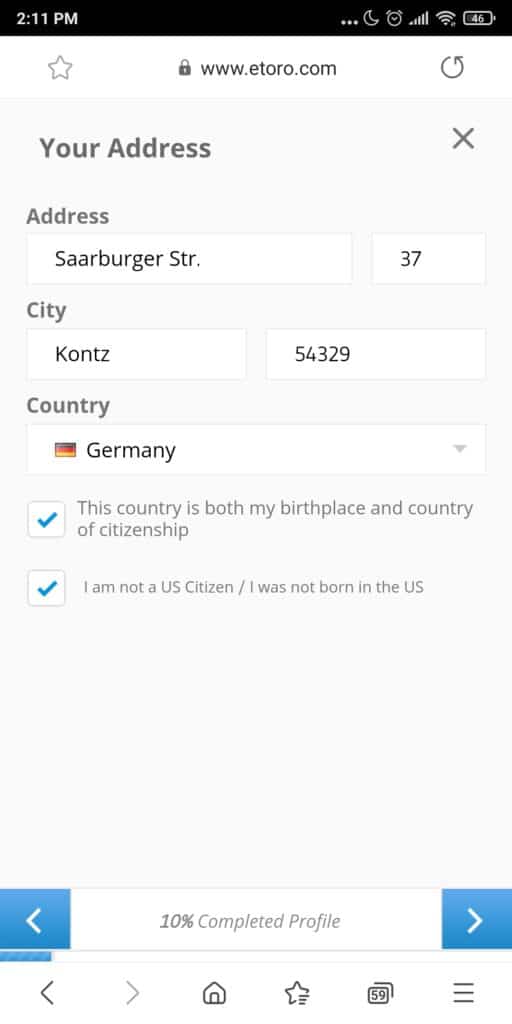 Up next comes a quiz. It should be just one question and to be honest, if you have trouble answering this one it may be best to do a little 📚 reading first.
Now the page will ask you about your planned investments. For buying U.S. ETFs, just selecting 'Stocks' should be fine. Also provide your trading purpose and risk attitude on the next pages. This information will be used to create a risk profile to match investments. It should not affect your ability to invest in ETFs with a higher risk profile though.
List any relevant affiliations you may have, such as with 👑 public officials. For most people none of the options should apply. Finally, enter your sources of income and occupation before we move on to the verification process.
Receive up to €100 in Bitcoin for free!
Interested in crypto but want to invest only a small amount? Use SwissBorg to purchase or deposit just €50 worth and receive a random amount of up to €100 in crypto for free.

Discover your reward! 🎀
Verify your eToro account and deposit to buy U.S. ETFs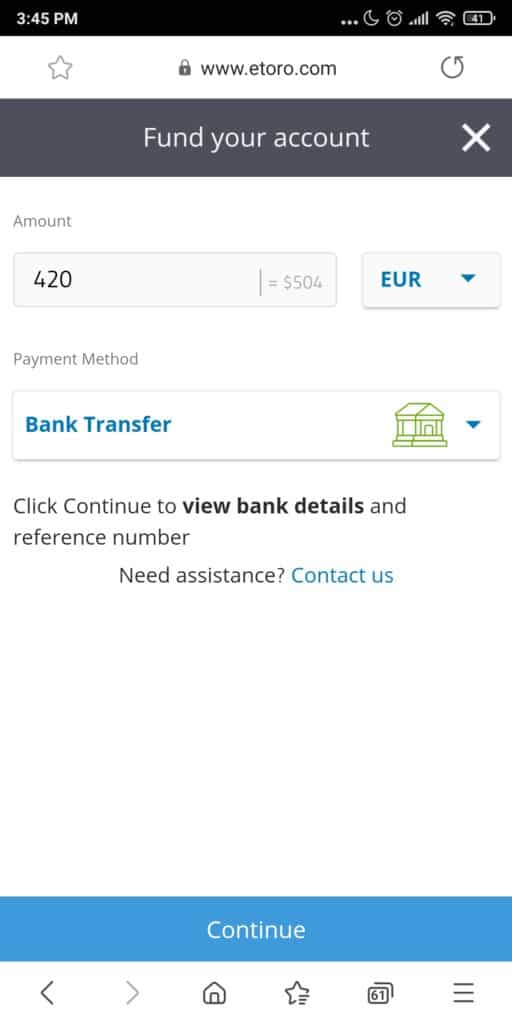 Press 'Complete Verification' and provide a 📱 phone number when asked. Enter the code you receive and press 'Verify'. Provide your Tax Identification Number if asked. If unsure, this link will explain where to find it.
Continue and press 'Deposit Funds' to enter the deposit amount and choose a payment method. Various options are available, such as PayPal, iDeal, Klarna, and 💳 credit/debit card. Complete the relevant steps for your payment method and you should now be all set to start buying ETFs. Note that you don't forget to include the payment reference number when using a bank transfer.
Any deposits will be converted to USD by eToro. Save on conversion costs by using either Wise or CurrencyFair to deposit in USD directly.
When transferring €2000+, be sure to deposit via CurrencyFair! 🎁 Use this link for instructions on how to do so.
Using eToro to buy U.S. domiciled ETFs
Once your deposit has cleared, we can now start buying U.S. domiciled ETFs via CFDs. Currently, eToro offers exposure to 250+ U.S. ETFs, including many of the most popular ones. Should this not be sufficient for your needs, check out my guide on using a U.S. broker to get access to all U.S. ETFs.
Press the 🔎 search icon at the top of the page and search for the ETF you'd like to buy. For this example, we'll buy a few shares of ARKK, the popular ARK Innovation ETF.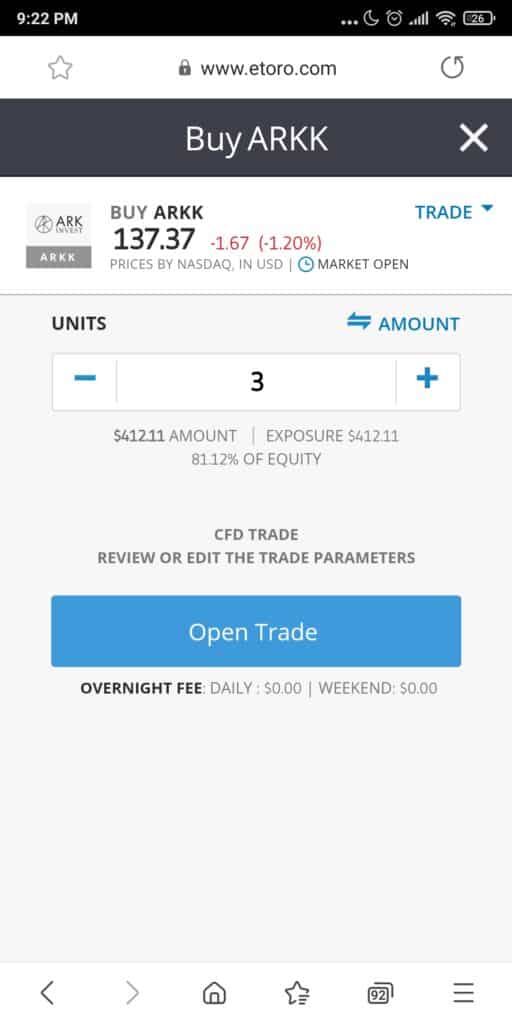 Press the ETF in the search results and press 'Trade' on to put in your order. Check the overview of your first trade and press 'Got it' to continue. Now specify the number of shares you'd like to buy, and finally submit the order by pressing 'Open Trade'. Note that the CFD fees at the bottom of the screen states that there are no 🌙 overnight fees because we are not using any leverage for our order.
Currently the minimum amount required to open a position is $50 for stocks and ETFs. It's also possible to buy fractional shares, e.g. half a share.
Depending on what you're buying, it's possible you're also asked to confirm your details for eToro to fill out a W-8 BEN 📃 form on your behalf. This lowers the tax applied on dividends to your country's treaty rate.
Looking to diversify your portfolio?
Why not add a little crypto? Sign up with Coinbase—one of the world's largest and most reliable exchanges—and receive $10 worth of Bitcoin for free, when buying at least $100 worth of crypto.

Claim free gift! 🎁
Closing a CFD position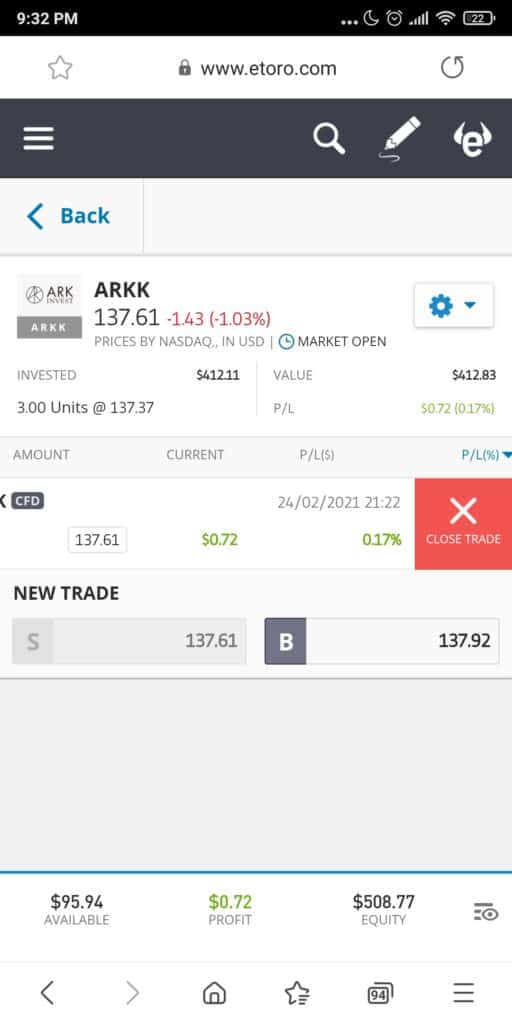 Back on the home screen, press the pie 🥧 chart icon to open your portfolio and view your positions. To close a position, do not press the 'S' (sell) button, as this would open a short position. Instead, swipe the position to the left to reveal a 'Close Trade' button that you can press. On the following screen, confirm that you would like to (partially) close the position.
Did you use an eToro account to buy U.S. domiciled ETFs? How did it go for you? Do you have any more questions? Consider leaving a 💬 comment below!
Join and buy U.S. ETFs 💶

eToro is a multi-asset platform which offers both investing in stocks and cryptoassets, as well as trading CFDs.

Please note that CFDs are complex instruments and come with a high risk of losing money rapidly due to leverage.

77% of retail investor accounts lose money when trading CFDs with this provider. You should consider whether you understand how CFDs work, and whether you can afford to take the high risk of losing your money.

Past performance is not an indication of future results. Trading history presented is less than 5 complete years and may not suffice as basis for investment decision.

Copy Trading does not amount to investment advice. The value of your investments may go up or down. Your capital is at risk.

Cryptoasset investing is highly volatile and unregulated in some EU countries. No consumer protection. Tax on profits may apply.

eToro USA LLC does not offer CFDs and makes no representation and assumes no liability as to the accuracy or completeness of the content of this publication, which has been prepared by our partner utilizing publicly available non-entity specific information about eToro.