In this blog post I will detail how to fund your Tastytrade account from Europe/U.K., so that you may be able to buy US domiciled ETFs such as ARKK, TQQQ, and SOXL from Europe, where such ETFs are otherwise not accessible.
Earlier on we went through the process of opening a 🍒 Tastytrade account and creating a 💱 CurrencyFair account, both required before we proceed below.
Initiating the transfer
To fund Tastytrade from Europe/U.K., open the CurrencyFair website and check that the top right-hand corner says 'My Account'. If not, login first. Now use the form to enter the amount you'd like to send.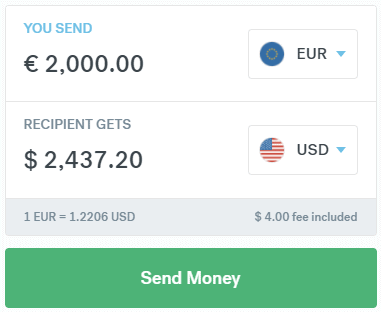 If you signed up via my link, be aware that, in order to receive the 🎁 €50 free bonus, a minimum of €2,000 (or the equivalent in the depositing currency) needs to be transferred in a single transaction.
The recipient's currency should always be set to USD. 💵
For this example, we will transfer €2,000. Click 'Send Money' to proceed to the next page where an overview of your transfer is once again shown. Click 'Next' to continue to the recipient details page.
⚠️ Pay close attention when filling out the following details!
| Requested information | Input |
| --- | --- |
| Name of account holder | Tastytrade via Apex Clearing |
| Country where account is held | USA |
| Account number | 1619329 |
| ABA number | 071000288 |
| Recipient's Address | 350 N. St. Paul Street, Suite 1300 |
| Recipient City/Town | Dallas |
| Recipient State/County | Texas |
| Recipient Post/Zip Code | 75201 |
| Recipient's Country of Residence | USA |
| For further credit information | BO [your full name] FFC [Tastytrade account number] |
| Recipient reference | BO [your full name] FFC [Tastytrade account number] |
| Purpose of transfer | Investment in Financial Product |
Note that the name of the account holder is 'Tastytrade via Apex Clearing', not your own name. The account number (1619329) and address are also different from your Tastytrade account. This is because we are transferring the money to 🍒 Tastytrade, who in turn will deposit it into your brokerage account. This is done by taking the information in the 'for further credit information' field. Be ware that this field only appears after filling out ⌨️ all previous fields!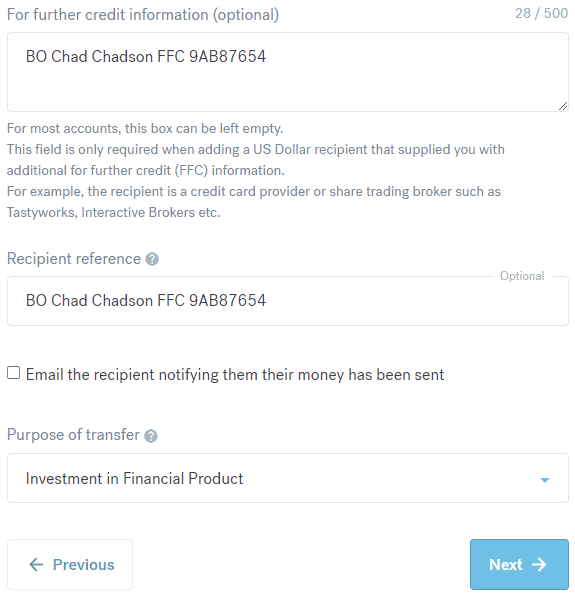 BO stands for 'by order of', which is you, so provide your full name here. FFC stands for 'for further credit to', which should be your Tastytrade account, so be sure to correctly list your account number here.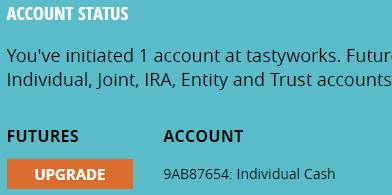 If you are unsure, you can find your account number by going to the Tastytrade homepage, clicking 'Log in', and checking the 'Account status' box. It should look something like this: 9AB87654.
Sending the money to CurrencyFair
Click 'Next', and now we can start sending the money from your 🏦 bank account to CurrencyFair, who will in turn send it to Tastytrade. Login to your personal bank account and initiate a money transfer for the amount you have chosen earlier.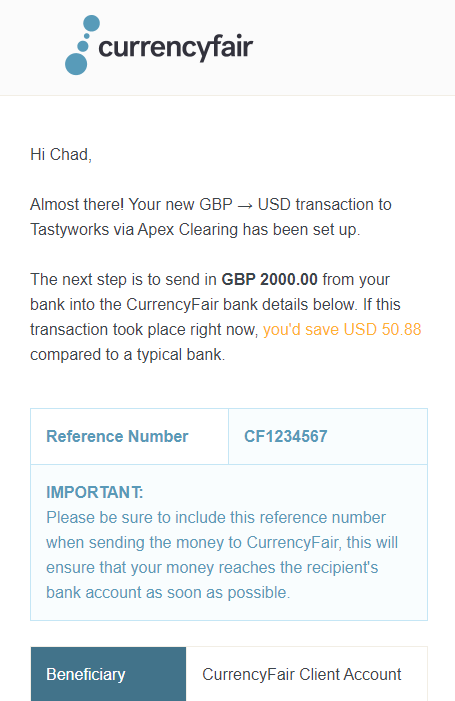 Consult the CurrencyFair page for the details of the recipient. You should also receive an 📧 email containing the same.
I have provided a screenshot as an example, but be careful as the details are entirely dependent on the currency and amount you're depositing!
In your own bank's interface, some information may not be required for the transfer, though you will need to put in at least the name (or 'beneficiary'), IBAN, and payment reference, which should look something like CF1234567 and is different for every account. Without a payment reference, CurrencyFair will not know what transaction your money belongs to and thus fail!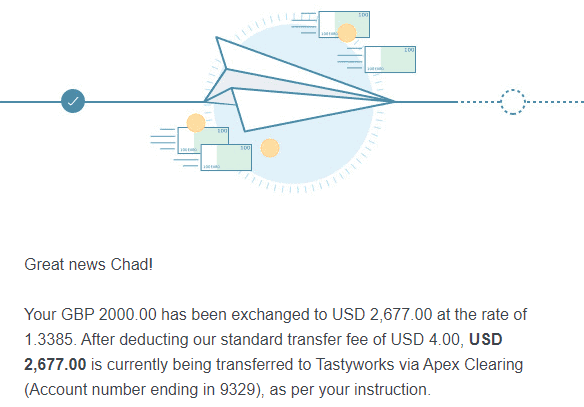 Depending on the currency, it should generally take between 1 and 3 business days 🕒 for your money to arrive at CurrencyFair. You will receive a confirmation email once the funds have been received. From this moment on, it can take a few more days for it to clear and appear in your Tastytrade account, because it is sent through an intermediary bank first.
You can find an overview of the processing times per currency here.
While waiting, why not leave a comment below and share your experience?
Informing Tastytrade
In the meanwhile, it is advisable to send Tastytrade a notification via email to prevent any issues (they recommend this themselves when using CurrencyFair). Once you have received the email confirming your transfer is on its way, you can then forward this email to banking@tastytrade.com, along with your Tastytrade account information.
From initiating the transfer, it can take around a week to fund Tastytrade from Europe.

Once your funds have been received, the status of your Tastytrade account will change to 'Funded'. You will now be able to start buying 📈 US ETFs. More on this in the next blog post.
Overview of fees to fund Tastytrade from Europe
Though CurrencyFair is among the, if not the, cheapest money transferring services available—charging just $4 + conversion per transfer—transfers to Tastytrade have to go through an intermediary bank that does charge a $20 fee. Unfortunately there is no way around this, though if you signed up using my link you will receive a €50 bonus 💶 that should cover some of the fees.
⚠️ Note that the $20 fee to fund Tastytrade from Europe is not specified during the transfer via CurrencyFair, because it is not CurrencyFair (or Tastytrade) charging the fee, but an intermediary bank.
Aside from the fixed fees, there are some conversion fees as well. On average those will amount to 0.4% of the total amount, depending on the currency. Please find a brief estimate of fees below for some common amounts. It is advisable to transfer big amounts 💰 at once instead of in multiple smaller transactions.
| Amount sent | Fees | To receive |
| --- | --- | --- |
| $2,500 | 20 + 4 + 10 = $34 (1.36%) | $2,466 |
| $5,000 | 20 + 4 + 20 = $44 (0.88%) | $4,956 |
| $7,500 | 20 + 4 + 30 = $54 (0.72%) | $7,446 |
| $10,000 | 20 + 4 + 40 = $64 (0.64%) | $9,936 |
| $25,000 | 20 + 4 + 100 = $124 (0.50%) | $24,876 |
| $50,000 | 20 + 4 + 200 = $224 (0.45%) | $49,776 |
| $100,000 | 20 + 4 + 400 = $424 (0.42%) | $99,576 |
Tastytrade does not charge any fees for buying and selling stocks and ETFs, while most European 🌍 brokers do. Along with the €50 bonus, this should at least partially make up for the transfer fees. Aside from that, European brokers also charge conversion 💱 fees when trading in USD, so this fee is paid either way.
Looking to diversify your portfolio?
Why not add a little crypto? Sign up with Coinbase—one of the world's largest and most reliable exchanges—and receive $10 worth of Bitcoin for free, when buying at least $100 worth of crypto.

Claim free gift! 🎁